Children
All Saints parish is transitioning to a family formation model of religious education.  Vatican II made clear that parents are called to the be primary educators of their children in the faith: "In what might be regarded as the domestic church, the parents, by word and example, are the first heralds of the faith with regard to their children."  We'll have our first information meeting on Wednesday, October 4, 2017 at 6:30 pm in the meeting rooms.  Registration opportunity will take place at that time.
Vacation Bible School
Vacation Bible School Bible school is offered for incoming Kindergarten through 5th grade for a four-day period during the summer. Children experience Jesus and their Catholic faith through Scripture stories, songs, crafts, games and snacks.
Vacation Bible School is presented by our All Saints Catholic Church.  Please call to offer your volunteer support for the coming year.
Contact the church office for further information.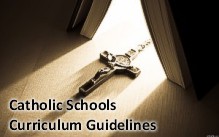 All Saints Catholic School – Praying, Learning, Serving
All Saints Catholic School, a vital ministry of All Saints Catholic Parish, is committed to assisting families in educating the whole person, helping our children grow in knowledge and love of God, academic achievement, service of neighbor, and discovery of their God-given gifts.   Visit our website.