Knights of Columbus
Knights of Columbus is a gathering of men who are 18 years of age or older and participate in many charitable and service programs throughout Lewiston's parishes and greater community. The Knights of Columbus Council # 1024 meets on the second & fourth Thursdays of the month, September through May, at 7:30 p.m.
Catholic Daughters of the Americas
Catholic Daughters engage in creative and spiritual programs that provide its members with opportunity to develop their special God-given talents in a meaningful way to positively influence the welfare of the Church and all peoples throughout the world. Catholics Daughters of the Americas Court Cataldo # 158. Catholic Daughters of the Americas Court Cataldo meet on the second Wednesday of the month. Meetings begin with a rosary at 6:30 p.m. followed by a business                  meeting at 7:00 p.m.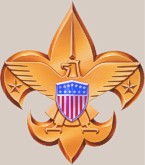 Boy Scouts of America Troop # 162
Boys may join Boy Scouts of America as a continuation of their boy scout trail from cub scouts – this is where the majority of boy scouts come from. But, the age of 11 is a great time for a new boy to begin scouting! The Boy Scout program is a big change from cub scouting, the biggest change being that it is boy led instead of adult led. Boy Scouts is for boys aged 11 through 17. When the 18th birthday is reached, he can no longer be a boy scout, but he can continue to support a troop in an adult leader role. As a scout grows in skill, he takes on responsibility and moves from being a learner to being a leader.
Boy Scout Troop #162 is sponsored by Knights of Columbus Council # 1024. Troop #162 meets at All Saints every Tuesday, September through June at 7:00 p.m. Contact Scoutmaster Dan Luper at 746-6140 for information on Boy Scout Troop #162.